Our volunteers know how precious your children are and strive to provide them with a safe and loving environment. That's why we've implemented a security measure to ensure each child is safe and accounted for while you enjoy a couple of hours of fellowship, worship, and concentration on the Word of God. You can have peace of mind knowing that your children are well taken care of and enjoying their visit with us.
The FBC Nursery is for newborn through four years old and is located on the first floor of our main building. When registering your children for nursery, please come early so that you may fill out an information sheet and sign in.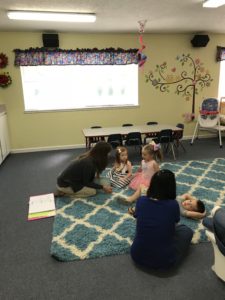 9:00 am Service – Newborn – 4 years old with Miss Ashley
10:45 am Service – Newborn – 2 years old with Miss Claire
3-5 year olds now have a transitional class available for them with Mr. Ryan and Miss Sharon at 10:45!