This Fall 2017 curriculum is "Learn and Serve!" Children will:
learn the language of faith while growing in the love of God and Jesus.

practice faith formation with children of various ages.

work through the biblical message using their learning style to do activities for their age level.

experience God's love through prayer, activity, and worship each week.
Featuring Asia, Edgar, and Kat, these videos tell the Bible story through the kids' perspectives. There are also quarterly music videos, monthly Bible verses, and monthly Bible trivia challenges.
The fun begins at 10:45 in Children's Church!

Miss Beth's Sunday School Class is on Sunday Mornings at 9:00 am.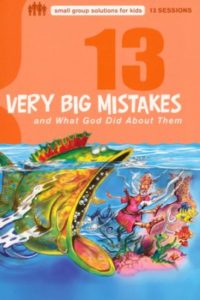 This Fall, we'll help your kids
explore mistakes men and women in the Bible made and how to avoid making those same mistakes themselves. Kids will enjoy learning about Jonah, King Saul, Adam, Eve, and others as we study a series called

13 Very Big Mistakes and What God Did About Them.
In order to give your children the best Bible teaching possible, we hold Sunday School classes and Children's Church in conjunction with our contemporary and traditional services. This special time gives kids more opportunity for interaction and learning in a context and manner that may be better suited to their age and learning styles.

Our friendly Children's Church volunteers and Sunday School teachers have an endless stream of creativity–ranging from singing, games, object lessons, puppetry, and fun crafts to engage children of all ages and backgrounds.

What's Happening on Wednesdays?